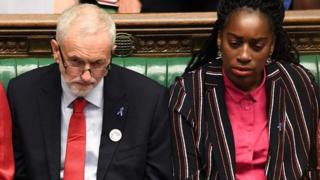 A Labour frontbencher has quit her role to "support family" after a row about her son's drugs conviction.
Shadow international development secretary Kate Osamor stepped down weeks after she was reported to Parliament's standards watchdog.
Her son Ishmael Osamor previously admitted having £2,500-worth of drugs at Bestival in Dorset last year.
Ms Osamor's resignation follows allegations of misconduct made by The Times newspaper.
In a statement on Twitter, the Edmonton MP said it had been a "difficult time".
The Times alleged Ms Osamor had verbally abused one of its journalists on Friday night, thrown a bucket of water over him and then called the police.
The reporter had visited the MP's home seeking a response to ongoing questions surrounding Ms Osamor's son's conviction for drug offences, the newspaper said.
Ishmael Osamor pleaded guilty in September to four charges of drug possession, but prosecutors accepted he wasn't planning to sell the drugs.
According to The Times, Ms Osamor said she did not know about the case until after sentencing in October.
But the newspaper reports that the MP wrote a letter to the trial judge asking for leniency and stressing her son's remorse.
The BBC has approached Ms Osamor for comment on the allegations made by the newspaper.
Labour leader Jeremy Corbyn thanked Ms Osamor, who was elected in 2015, for bringing "a new dimension" to her role as a shadow minister "by committing Labour to tackling global inequality as well as poverty".
Ms Osamor's "integrity" was questioned when she continued to employ her son as a communications officer after he resigned as a local councillor.
Last month a Tory MP reported her to Parliament's standards watchdog over her son's continued employment in her Westminster office as a researcher.
Ishmael Osamor was caught trying to take ecstasy, cocaine, ketamine and cannabis into a festival in August 2017 – nine months before he was elected as a councillor for Haringey.
Following his conviction he resigned from his cabinet post on the council, and later resigned as a councillor following pressure from opposition groups.